Paylocity: More Than Just Payroll
Paylocity develops industry-leading, cloud-based HR and payroll solutions that empower you to drive strategic decision-making, cultivate a modern workforce propelled by innovative technology, and improve employee engagement. We meet you where you are today, helping you evolve
at the pace of your business. Our software helps tackle your biggest human capital management challenges throughout the employee journey, so you can focus on tomorrow. Gain valuable insight and uncover predictive analytics about the trends and challenges influencing your role and organization.
We're Here to Help You Every Step of the Way
We're in this together. Your employees are your greatest asset. But, how do you keep up morale while keeping your business running smoothly during this transition? Count on us to help you communicate, collaborate, increase productivity, and optimize learning all from a mobile device. A partner takes the time to get to know you and understand your needs. At Paylocity, we're an HR and payroll technology company backed by a culture that truly cares.
Eliminate Paper and Go Digital
Get rid of the cumbersome filing cabinet. Our products allow for mobile access and a digital record in the key areas you need to stay connected.
Onboarding
Put the first day focus back on the employee. Collect all essential new hire paperwork digitally before day one – making data collection seamless.
Expense Management
Streamline the reimbursement process with our mobile app to capture receipts, minimizing manual entry errors and lost receipts.
Performance Management
Employees can set and manage goals, facilitate ongoing conversations – all with a digital footprint.
Mobile Punch
Employees can clock in and out from their phone, eliminating the physical time card.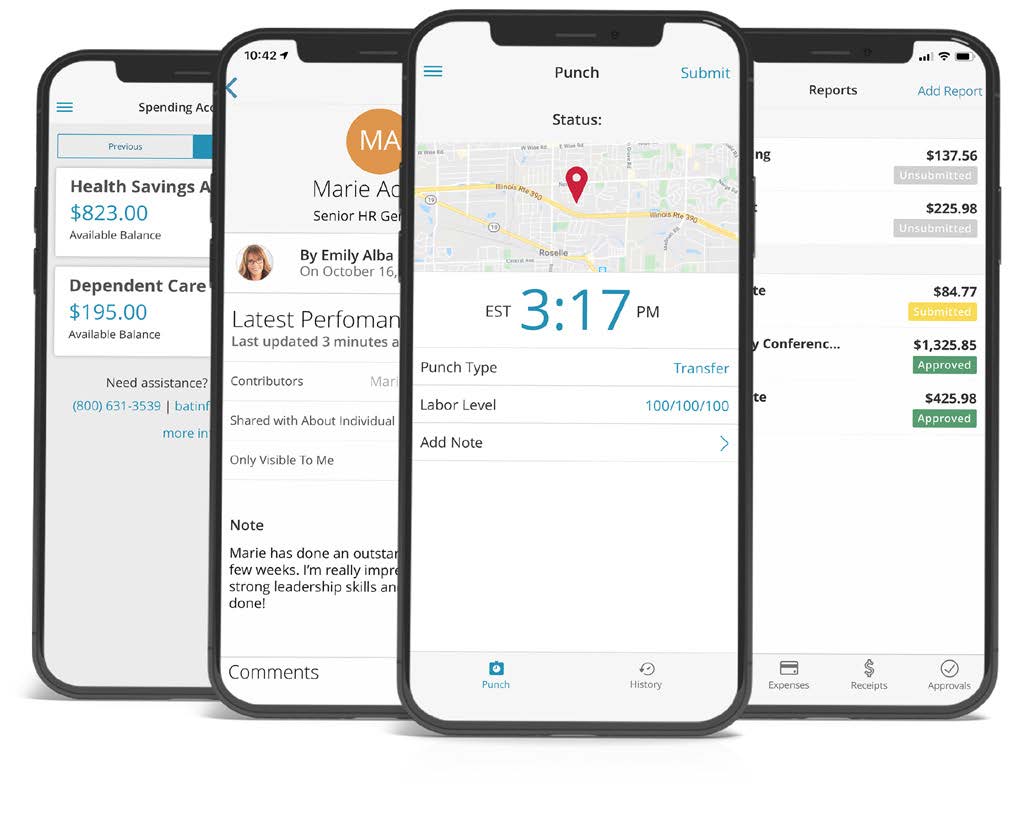 Direct Deposit
No more lost checks with direct deposit, employees can update direct deposit information from their mobile device, view past pay stubs and more.
Recruiting
Streamline the entire recruiting process from application creation to storing all candidate files for future onboarding.
Benefit Administration
Employees can access benefits info from their phone, and you can easily connect benefits with HR & Payroll to reduce costs and minimize risk.